CAPABILITIES
CNC Drilling Service
We provide CNC drilling services of any complexity for rapid prototypes and production parts. Start a one-hour quote from a real engineer, and get your parts made as fast as one day.
Tight Tolerances up to ±0.0005″ (0.012mm)
Multi-Axis (3, 4, or 5-axis) Drilling

Works with Aluminum, Steel, Copper, Polymers, etc

High-Speed and Deep Hole Drilling





Why Choose Our CNC Drilling Service
When it comes to precision, speed, and versatility, our CNC Drilling Service is second to none. We offer precision hole placement with the ability to drill variable and precise hole sizes. Our advanced drilling technology allows for high-speed drilling, even in the deepest of holes.
Our state-of-the-art multi-axis drilling systems can handle any design, no matter how complex. Whether you're working with Aluminum, Steel, Copper, or Polymers, our machines are equipped to deliver the highest quality results.
With us, you can expect rapid production times without compromising on quality. Our CNC Drilling Service adheres to tight tolerances up to ±0.0005″ (0.0127mm), guaranteeing you the precision you need for your projects.
Choose our CNC Drilling Service for reliability, precision, and a partner committed to bringing your vision to life."
How to Order parts?
Get a free quote from a real Engineer, Once we receive your design, Our engineer will review it and send you a quotation as fast as one hour.

Get One Hour Quote
Upload your design or send an email directly to our engineer and get your quotes within as fast as one hour

Start Production
Your parts will get made once your orders confirmed, besides, your will get real-time updated of the production status from our order tracking system

Receive Your Custom Part
After all parts pass qc inspection, they will be well packed from any transportation accidents. Then, your custom parts are delivered straight to your doorstep
CNC Drilling Materials Options
CNC drilling machines can work with a wide range of materials, both metal and non-metal. Here are some of the most common materials below.
3 Ways to Ensure Perfection
Standards
GENERAL TOLERANCE
For metals, the standard is ISO-2768 fH (fine)
For plastics, the standard is ISO-2768 mK (medium)
Metric threads tolerances:ISO 965-1 standard UN Threads Tolerances: ASME B1.1-2003 standard
knurling: ISO13444:2012 standard Our factory is ISO 9001:2015 certificated
Visual inspection and Protection
Constant visual inspection conditions
Quantification of cosmetic surface quality
Process requirements
Part cleaning and Protection
Quality Inspection Report
Inspection Confirmation
Dimensional confirmation
Appearance confirmation
Quality documentation
What is CNC Drilling?
CNC (Computer Numerical Control) Drilling is a widely used subtractive manufacturing technology that involves the use of computers to control machine tools. These machine tools, in the case of CNC drilling, are drills that are used to create holes of different diameters and depths in a variety of materials.
Principle of CNC Drilling
At the core of CNC drilling is a computer-controlled system that directs the drill bit's movements. The drilling process begins with a digital 3D design of the part, created using CAD (Computer-Aided Design) software. The 3D design is then converted into machine instructions using CAM (Computer-Aided Manufacturing) software. These instructions, or G-codes, control the movement, speed, and positioning of the drill bit.
Advantages of CNC Drilling
CNC Drilling machines can have multiple axes of movement. Most commonly these are 3-axis machines, but there are also 4 and 5-axis machines that offer even more flexibility, allowing the drill bit to approach the workpiece from different angles and in different positions.
One of the key advantages of CNC drilling is its precision. It can achieve very tight tolerances, often as tight as ±0.0005″ (0.0127mm). This high degree of accuracy is consistent across all parts produced, regardless of the production volume.
Another advantage is the ability to drill complex and intricate patterns that would be difficult or impossible to achieve manually. This makes CNC drilling suitable for a wide range of industries, including aerospace, automotive, electronics, medical, and more.
Get a quote by drop your needs
What tolerances can I expect with CNC drilling?
CNC drilling can achieve very tight tolerances, often as tight as ±0.0005″ (0.0127mm), but this can vary depending on the machine and setup.
Can CNC drilling machines handle all materials?
CNC drilling machines can work with a variety of materials, including metals like aluminum, steel, and copper, as well as non-metals like polymers and composites. However, the specific materials a machine can handle will depend on its capabilities.
What's the difference between 3-axis, 4-axis, and 5-axis CNC drilling?
The difference lies in the number of directions the machine can move the drill bit. A 3-axis machine can move in the X, Y, and Z directions, while a 4-axis machine can also rotate the workpiece around one of these axes, and a 5-axis machine can rotate around two.
What is the typical production time for CNC drilling?
Production times can vary greatly depending on the complexity of the design, the material being used, and the volume of parts being produced. However, CNC drilling is generally faster than manual drilling techniques.
Why should I choose CNC drilling over manual drilling?
CNC drilling offers many advantages over manual drilling, including greater precision, the ability to create complex patterns, faster production times, and consistency across all parts produced.
What industries typically use CNC drilling?
Many industries use CNC drilling, including aerospace, automotive, electronics, medical, and more. Any industry that requires precise, consistent holes in a variety of materials can benefit from CNC drilling.
Is CNC drilling cost-effective for small production runs?
While the cost-effectiveness can depend on various factors, generally, CNC drilling can be cost-effective even for small production runs due to the high level of precision and the reduced labor costs.
What types of parts can be made using CNC drilling?
CNC drilling can be used to make a wide variety of parts, from simple plates with a few holes to complex components with intricate drilling patterns. It's used in the production of everything from electronic enclosures to automotive parts and aerospace components.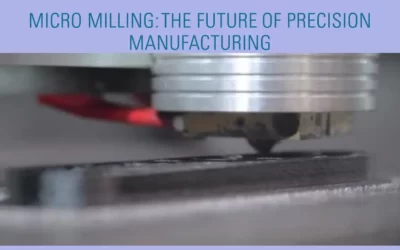 Micro milling is a processing method used to process fine parts. Unlike traditional milling, micro milling can provide more complex 2D, 2.5D features, and even process some 3D...
read more