ABS CNC Machining: Everything You Need to Know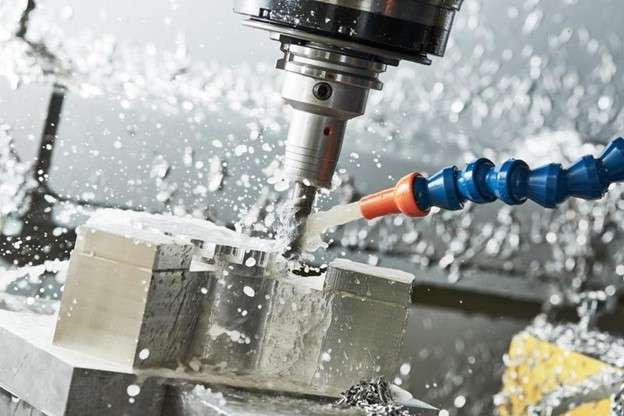 CNC machining of ABS plastic
ABS refers to Acrylonitrile Butadiene Styrene, which is a rigid & strong engineering thermoplastic. The formation of ABS involves co-polymerizing three chemicals (monomers), styrene, acrylonitrile, and butadiene. Various additives like heat & hydrolysis stabilizers play significant roles in tailoring ABS properties. The bled of additives in monomers of ABS increases the strength, toughness, fatigue life, and many more properties.
It is compatible with the CNC machining operations like milling, turning, drilling, and other.
What Are the Properties of ABS Plastic?
ABS has many valuable properties, making it suitable for various industries. It offers high mechanical strength, impact strength, fatigue life, corrosion resistance, flame retardant, thermal stability, and more. Let's discuss significant properties in more depth.
ABS is a strong thermoplastic with 29.6 – 48 MPa of tensile strength. It can withstand high loads without warping or cracking. The compact fullness of monomers in the internal structure provides high mechanical strength and load-bearing capacity.
It is capable of withstanding shocks or high-impact energy without losing its properties and any material form of material failure. ABS has an average impact strength of 20 kJ/m² for the notched sheet and 58 kJ/m² for the unnotched sheet (ABS PLASTIC MATERIAL PROPERTIES LIST, 2020), which makes it an appropriate material choice for applications where parts need to withstand regular shocks, such as boarding stairs of aircraft.
ABS plastic is resistant to most chemical compounds, such as acids, alkalis, mineral oils, and vegetative oils. However, it can react with concentrated glacial acetic acid, aromatic esters, and carbon tetrachloride.
ABS plastic is known for its hardness (200 – 215 J/m). The rigidity and hardness make it resistant to scratches and abrasion. The hardness of ABS allows it to use in structural components for different applications.
High-voltage shocks are not a problem for ABS parts. It functions flawlessly as electrical insulation and blocks current flow, an essential quality for insulating applications.
Surface brightness is an aesthetic property that gives the ABS parts an appealing look. The ABS surface's brilliance and gloss make it helpful in situations where aesthetic appeal is essential.
ABS can work in the temperature range of -50°C to 70°C without degrading any physical, mechanical, or chemical properties. It exhibits superior functionality in this temperature range. It is also known as excellent fire retardant plastic, which can slow down the fire and even stop the fire by preventing from spreading of flames.
Let's Start A New Project Today
Machining of ABS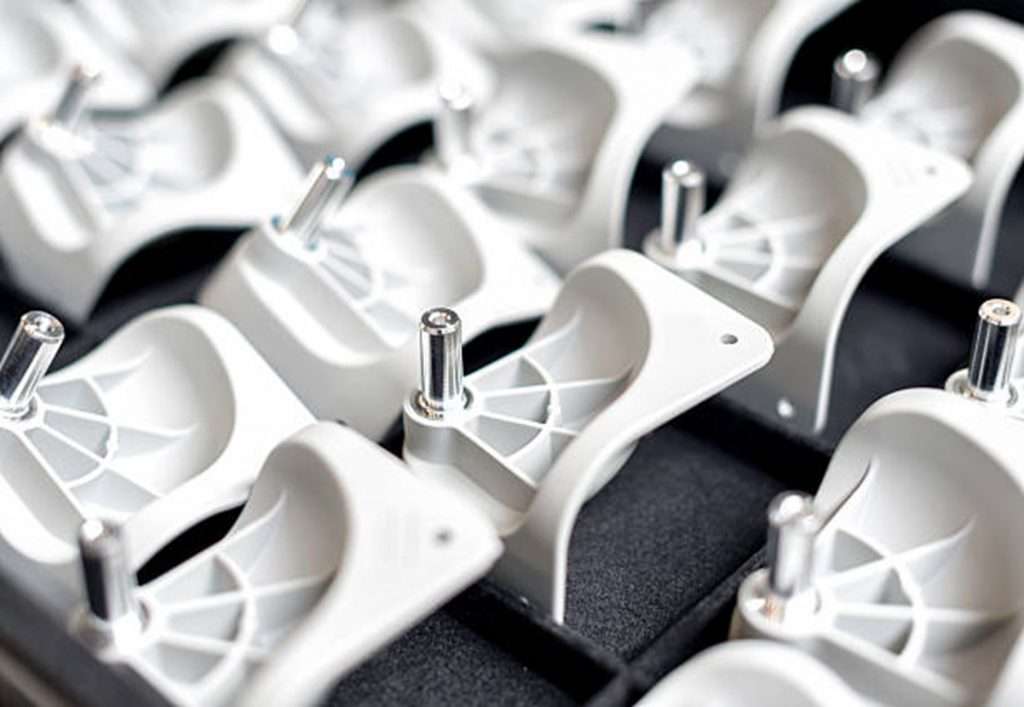 CNC-machined ABS
The high machinability character of ABS facilities all the CNC machining processes, including milling, turning, routing, drilling, and more. The high-precision can be maintained using appropriate tools.
The high-carbon steel tools are best suited for ABS machining (carbide tools in some cases). It is compatible with almost every feed rate and cutting speed. Lowering the cutting speed and feed rate might cause heat generation and physical damage to the ABS workpiece. While the high cutting speeds (spindle speed) can result in a shred cut.
CNC milling is the most common operation for ABS to transfer the workpiece into the desired shape. It can be milled with different tool sizes, from 1/8″ flat-end mill to 1/64″ flat-end mill, based on the particular requirement (Emily A., 2019). Other operating parameters of CNC machines, such as feed rate, spindle speed, and cutting depth, need to adjust according to the tool size.
For example,
Tool size (1/8″ flat end mill): feed rate of 1500 mm/min, 16, 400 RPM, 1.27 mm of maximum pass length.
Tool size (1/64″ flat end mill): feed rate of 762 mm/min, 16, 400 RPM, 0.254 mm of maximum pass length.
Source: (Emily A., 2019)
While using the larger tool, RPM must be adjusted at a lower level, and it limits the maximum pass length. Comparing the CNC machining of ABS with metallic material is quite similar to the machining of aluminum 6061. The tight holding of the ABS workpiece is mandatory, and the optimum tool bat can be configured with the help of CAM simulation.
Carbide tools are the best replacement for high-carbon steel. It removes the chance that the workpiece will have fuzz on the top or bottom.
Important Consideration in ABS CNC Machining
There is almost zero risk of wear on the tool and machining defects while working with ABS plastic if you consider the few precautions while machining.
Consider the minimum wall thickness of 0.5 mm to prevent the warpage.
At most, the cutting depth can be ten times the tool bit diameter.
The tool's temperature needs to be monitored because friction between the tool and ABS workpiece can hot the tool quickly.
Coolants are necessary during drilling operations as hot chips might melt the material. In addition, the material can stick while exiting the hole.
Prefer the Single flute tool until it clears the chips smoothly. Generally, Single flute and double-flute tools are most common in ABS machining.
Using the carbide tool limits the frequent change of tool setup because it last longer.
Working with ABS material might cause skin irritation. Make sure to clean your hands after each session thoroughly.
What Are the Advantages of ABS CNC machining?
The high machinability of ABS allows for working with any CNC operation. It does not harm the tool, and there is zero risk of physical damage to the workpiece. Machinability also contributes to tight tolerances and smooth surface finishing.
High-level of precision can be maintained with any complex design. The correct tool setup, cutting parameters, and optimized tool path contribute to the exceptional dimension accuracy of CNC machined ABS parts. The CNC machines can create ABS parts with a tolerance of as low as ± 0.005mm.
ABS is one of the low-cost engineering thermoplastics that can be machined with CNC technology and high production speed. Less production time means lowering the overall cost. In addition, the minimum risk of creating defective parts also helps to minimize the production cost.
Prototyping is a crucial step in every product development cycle. ABS can be employed in prototype production for practically any indented product across relevant industries. ABS is a feasible option for prototyping metallic and plastic products due to its low cost, machinability, accuracy, and high strength-to-weight ratio
Like every other thermoplastic, ABS is fully recyclable after the life cycle of the part or product. It can be converted into new sheets or bars by melting and molding. It is beneficial in terms of cost and environmental effects.
What Are the Applications of ABS CNC Machining?
As previously mentioned, ABS can be converted into desirable parts of different industries, including automotive, electronics & electrical, aerospace, home appliances, defense, toys, and more.
| | | |
| --- | --- | --- |
| Industry | Applications | Why ABS? |
| Automotive | Protective bumpers, steering & suspension parts, driveline spare, interiors for decoration, wheel covers, and more. | High strength-to-weight ratio, shiny finish, scratch resistance, durability, and weather resistance |
| Fitting & plumbing | Plastic tubing, fittings, pumps, sockets, pipe tees, wyes, cleanouts, and more | Moisture resistance, durability, mechanical strength, corrosion resistance |
| Electronics & Electrical | Enclosures, insulators, computer keyboard, power plugs, power-tool housing, and more. | Thermal stability, fire retardant, moisture resistance, electrical insulation, high impact strength. |
| Medical | Nebulizers, compressors, pharmaceutical packaging, Ultrasound equipment, drug delivery, systems, housing for lab equipment, etc. | Strength, rigidity, processability, low weight, bio-compatibility |
| Home appliances | Refrigerator liners, vacuum cleaner parts, kitchen utensils, gardening tools, toys, etc. | Impact strength, durability, electrical insulation |
| Food processing | Refrigerator liner, juice presses, packaging, food processors, ovens, and food dryers. | Resistance to strain and abrasion, thermal stability chemical compatibility. |
| Defense | Protective headgear, hard hats, defense pads, etc. | Lightweight, high-impact strength, and toughness |
| Other | Parts for musical instruments, furniture components, decorative items, and many more. | Strength, hardness, durability, and customizability. |
What Are the Surface Finishing Options?
The as-machine finish of ABS parts involves a matte finish, which can be processed further to obtain the intended finish. Some common finishing approaches for CNC-machined ABS parts include bead blasting, electroplating, and painting.
| | |
| --- | --- |
| Bead blasting | Bead blasting results in a smooth and matte texture with excellent visual appeal. ABS parts can be processed with abrasive particles such as sand, glass buds, steel, silicon carbide, etc. |
| Metallic coating | Electroless and immersion plating make the metallic coating on the ABS surface possible. Common metals for ABS plating include aluminum, zinc, and more. |
| Painting | Adhesive painting is the most popular surface finishing approach for CNC-machined ABS parts. Any color can be painted on the surface based on the requirement. Additionally, the painting of bead-blasted ABS parts provides better results. |
Final Words
ABS plastic is becoming increasingly popular in CNC machining projects because of its low cost and excellent properties. It can proceed with all machining processes to convert into the desired shape. Creating precise ABS parts for prototyping and mass production requires a deep understanding of operating variables and cutting-edge CNC technology.
Prolean is the dedicated service provider for ABS prototypes and large-volume production. We have an experienced team of engineers and advanced CNC machines to create any plastic & metallic parts with very tight tolerances. If you are looking for an on-demand manufacturing service for your CNC machining project, you are just a few steps behind in getting your parts. Send us your design and finalize it by consulting our engineers then we will proceed immediately to convert it into reality.
FAQ's
What is ABS plastic?
ABS is the versatile engineering thermoplastics used in CNC machining projects, suitable for prototype development and mass production.
What are the typical applications of ABS CNC machining?
ABS CNC machining has a significant role in automotive, medical, electronic, electrical, aerospace, food-processing, and many more industries. Additionally, it is widely adopted in prototype development.
Why should I choose ABS CNC machining over Injection molding?
It is quick and cost-effective to use CNC machining. CNC machining can create correct ABS parts. It is wise to create a CNC prototype of ABS parts to analyze the technical & economic feasibility of injection molding.
Are there any crucial considerations of ABS CNC machining?
Yes, you should pay attention to tool temperature, tool material, cutting speed, feed rate, and intended use of the ABS part.
Bibliography
(2020). ABS PLASTIC MATERIAL PROPERTIES LIST. from https://static.webshopapp.com/.
Emily A. (2019). Material Overview: ABS. Bantam Tools, from https://support.bantamtools.com/.
Let's Start A New Project Today