The Implementation Process of CAM Software: A Step-by-Step Guide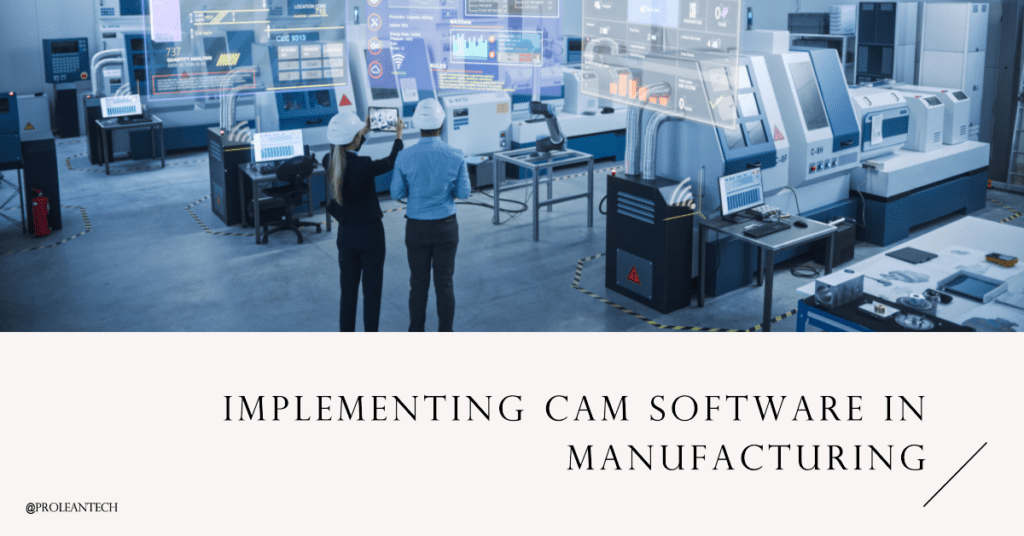 In today's manufacturing world, technology continues to play a pivotal role, in enhancing productivity, efficiency, and precision in operations. Among these, Computer-Aided Manufacturing (CAM) software stands as a revolutionary tool, reshaping how manufacturers strategize and execute their production processes. However, as transformative as it can be, the implementation of CAM software is a substantial endeavor, involving a series of thoughtful steps to ensure its successful integration and optimized use.
This article offers a comprehensive step-by-step guide to implementing CAM software in manufacturing operations, further highlighting the significance of this technology in today's production landscape.
The Prerequisites: Understanding the Basics of CAM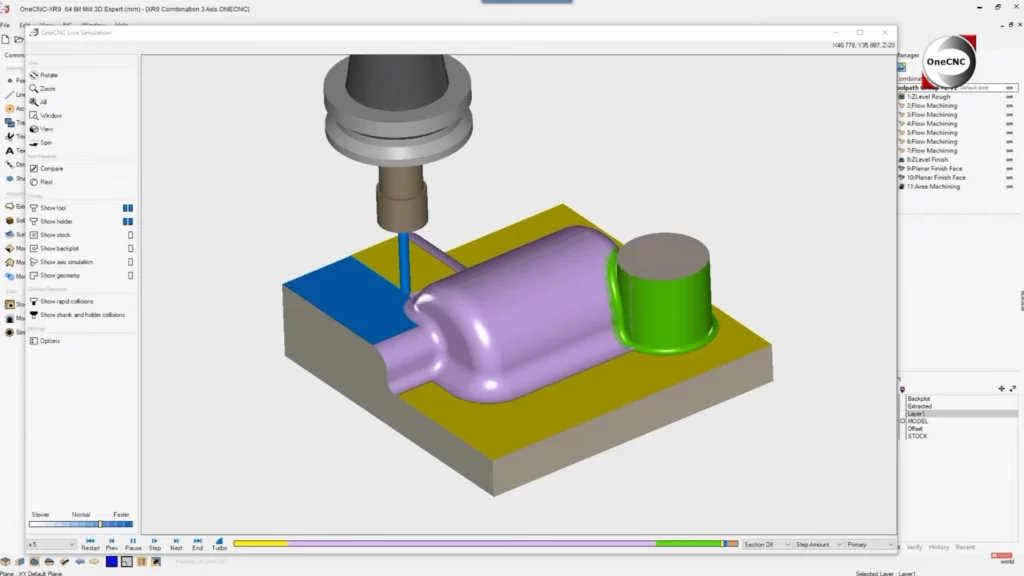 Before embarking on the journey of implementing CAM software, it is pivotal to grasp the fundamental concepts and working of Computer-Aided Manufacturing (CAM). CAM is an application technology that uses computer software and machinery to facilitate and automate manufacturing processes. It is instrumental in various industries, including machining, woodworking, and 3D printing, among others.
Core Principles of CAM;
Automation: One of the main advantages of CAM is its ability to automate the manufacturing process, reducing the need for human intervention and, consequently, the risk of errors.
Precision: CAM allows for high levels of precision and control over the manufacturing process.
Integration: CAM systems are often integrated with other systems, such as CAD (Computer-Aided Design) and CAE (Computer-Aided Engineering), forming a cohesive system known as CAD/CAM/CAE.
What Are the Essential CAM Functions?
CAM software is a vital tool in the manufacturing process, providing a range of functions that help to streamline operations and improve product quality. One key function is toolpath generation, which involves the software generating the most efficient toolpath possible to minimize production time while also maximizing product quality. This is particularly important as it can help to reduce costs and increase efficiency.
The following table shows the essential CAM functions in brief.
| Function | Description |
| --- | --- |
| Toolpath generation | Generates the most efficient toolpath to minimize production time and maximize product quality. |
| Machine simulation | Enables the visualization of the machining process and identification of potential collisions or errors before production begins. |
| Post-processing | Translates the CAD design into G-code, which is a language that the CNC machine can understand. This step is essential to ensure that the CNC machine can accurately reproduce the design and produce a high-quality product. |
Understanding these basic principles and functions is the first step toward implementing CAM software.
Step1: Selecting the Appropriate CAM Software
Choosing the right CAM software for your manufacturing process is crucial. There are numerous options available in the market, each with unique features, benefits, and drawbacks. Therefore, careful consideration should be given to selecting the one that best fits your organization's needs and objectives.
Key Considerations When Selecting CAM Software
Compatibility: The CAM software should be compatible with your existing systems and machinery. This includes compatibility with your CAD system, CNC machines, and any other relevant technology you use.
Functionality: Consider what features and functions are most important for your specific manufacturing processes. For example, if you do a lot of complex 5-axis machining, make sure the CAM software can support that.
Ease of Use: Look for software that has an intuitive interface and is easy to learn and use. This can reduce training time and make the transition smoother.
Vendor Support: Excellent vendor support can make a significant difference in the implementation process. Look for vendors who offer comprehensive training, support, and updates.
Step2: Installation and Setup of CAM Software
Once you've selected the ideal CAM software for your manufacturing process, the next step involves installing and setting it up in your operating environment. This phase involves several sub-steps, including hardware setup, software installation, and configuration.
2.1. Hardware Setup
This step involves preparing the computer or system where the CAM software will be installed. The following are some considerations:
System requirements: Ensure that your system meets the minimum hardware requirements specified by the CAM software provider. This typically includes specifications for the processor, memory, disk space, and graphics card.
Peripheral devices: If your CAM software will be directly controlling CNC machines, you may need to install additional hardware interfaces or controllers.
2.2. Software Installation and Configuration
The next step is to install the CAM software on your system. This process usually involves:
Installing the software: This typically involves running an installer program and following the prompts. Some CAM software may be cloud-based, which requires setting up an account and logging in through a web browser instead.
Configuring the software: Once installed, you'll need to configure the software to match your manufacturing process and machinery. This can include setting up machine profiles, specifying tool libraries, and more.
Let's Start A New Project Today
Step3: Training and Learning the CAM Software
With the CAM software installed and configured, the next stage is learning how to use it effectively. While most modern CAM software is designed to be user-friendly, there's still a learning curve involved, especially for complex manufacturing processes.
Many CAM software providers offer training resources to help new users get started. This can include tutorials, webinars, and even in-person training sessions. Take advantage of these resources to quickly get up to speed with your new CAM software.
Ongoing Learning and Improvement
As you start to use the CAM software, you'll inevitably discover new features and techniques that can help improve your manufacturing process. Regularly revisit your training resources, and consider participating in user forums or communities to continually enhance your knowledge and skills.
Integration with Other Systems
In many cases, CAM software doesn't work alone. It needs to be integrated with other systems such as CAD software for design, ERP systems for production planning, and CNC machines for manufacturing.
The most common integration is between CAD and CAM software. This allows you to seamlessly transfer design data from the CAD system to the CAM system for toolpath generation and machining.
Another critical integration is between the CAM software and the CNC machines that will be carrying out the manufacturing process. This often involves post-processing, where the CAM software translates toolpaths into a language (like G-code) that the CNC machine can understand.
Table: Steps in Implementing CAM Software
| Step | Description |
| --- | --- |
| Understanding the Basics of CAM | Grasping the fundamental concepts and working of CAM. |
| Selecting the Appropriate CAM Software | Choosing the right CAM software for your specific needs. |
| Installation and Setup | Preparing the hardware and installing and configuring the CAM software. |
| Training and Learning | Utilizing vendor-provided resources and ongoing learning to effectively use the software. |
| Integration with Other Systems | Ensuring seamless data flow between CAM, CAD, ERP systems, and CNC machines. |
Implementing CAM software in your manufacturing process can be a complex endeavor, but by following these steps, you can make the process smoother and more efficient. With the right preparation, selection, training, and integration, CAM software can significantly enhance your manufacturing capabilities.
The Road Ahead: Continuous Improvement and Optimization
Once the CAM software is implemented and running, the journey doesn't end there. For optimal results, it's crucial to continuously review and refine your manufacturing processes. As technology advances and your business grows, you may need to update your CAM software or adopt new methods for better efficiency and output. Remember, the end goal of implementing CAM software is not just to automate your manufacturing process but to continuously improve it for better productivity and quality.
Remember, Prolean's CNC Machining Services can help you get the most out of your CAM software implementation, offering expertise in precision machining and a deep understanding of both hardware and software aspects of CNC technology. Whether you're looking for advice on selecting the right CAM software or need help optimizing your manufacturing process, Prolean's CNC Machining Services has got you covered.
Conclusion
Implementing CAM software in a manufacturing environment is a significant step that can immensely transform operations, improve product quality, and decrease time to market. By understanding the basics of CAM, carefully selecting the software, ensuring proper installation and setup, training the team, integrating with existing systems, and continuously improving, companies can successfully navigate the implementation process and reap the benefits of this advanced technology.
In the midst of these, Prolean's CNC Machining Services stand as a reliable partner to guide you through each phase of this process, ensuring a seamless transition to this digital revolution in manufacturing.
FAQs
How long does it take to implement CAM software?
The duration of CAM software implementation can vary depending on factors such as the complexity of your manufacturing process, the particular software you choose, the training needs of your team, and the degree of integration required with other systems.
Can I implement CAM software on my own, or do I need professional help?
While it's possible to implement CAM software on your own, especially if you have a tech-savvy team, professional help can make the process smoother and more efficient.
What are the costs involved in CAM software implementation?
The costs involved in CAM software implementation can include the price of the software itself, any necessary hardware upgrades, training expenses, and the potential cost of professional services for installation and setup. However, it's important to consider these as an investment towards improved efficiency and product quality.
How can I train my team to use the CAM software effectively?
Most CAM software vendors offer comprehensive training resources, including tutorials, webinars, and sometimes in-person training sessions. Additionally, professional services like Prolean's CNC Machining Services can provide tailored training based on your specific manufacturing processes and needs.
What challenges can I expect during the CAM software implementation process?
Some common challenges during the CAM software implementation process can include resistance to change from team members, learning to use the new software, and ensuring smooth integration with other systems. However, with careful planning and support from professionals, these challenges can be effectively managed.
Let's Start A New Project Today